ARE YOU OF LEGAL
SMOKING AGE?
THE PRODUCTS ON THIS WEBSITE ARE INTENDED FOR ADULTS ONLY.
By entering this website, you certify that you are of legal smoking age in the state in which you reside
WARNING: This product contains nicotine.Nicotine is an addictive chemical. Our products are restricted to adults 21+ only.
All the products shown on Joyetech global official website are not allowed to promote or sell in the U.S. Market.

MVR
Compatiable with eVic surpreme, eVic and eMode MVR is now compatible with the eVic supreme, eVic and eMode of Joyetech. The software supports language of English and it is really cool, fun and easy to use. It is likely that all e-cigarettes will be developed based on similar software in the future. In the new surface, three big areas are included, Vaporing Record, vapor Setting and Configuration. With it, you can enjoy more functions such as set HomeScr Boot Logo and Screen Saver. You can set or modify a password in this new software for your eVic supreme. More functions and fun come together with MVR.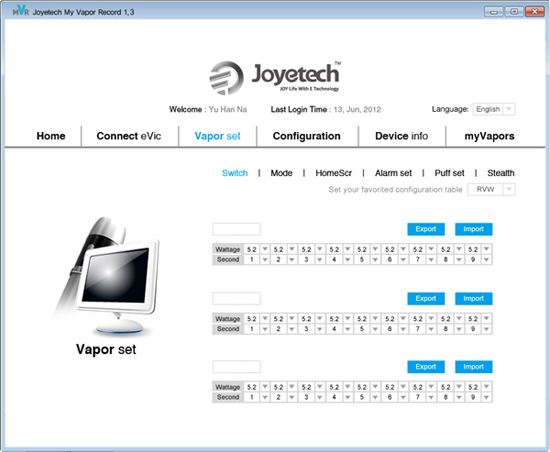 Check

"MVR1.3 Software Performance"
x