ARE YOU OF LEGAL
SMOKING AGE?
THE PRODUCTS ON THIS WEBSITE ARE INTENDED FOR ADULTS ONLY.
By entering this website, you certify that you are of legal smoking age in the state in which you reside
WARNING: This product contains nicotine.Nicotine is an addictive chemical. Our products are restricted to adults 21+ only.
All the products shown on Joyetech global official website are not allowed to promote or sell in the U.S. Market.

Notice:
There is a serial number for every Joyetech branded eVic kit, which is checked the authenticity of the eVic for the customers. If the product you buy without serial number, please deny it. Any Joyetech branded eVic without serial number will not be provided warranty or after sale service, also it can't be upgraded eVic or MVR software later.
the eVic kit comes with:
* 1 × eVic control head
* 1 × eVic battery tube
* 1 × rechargeable 2600MAH battery
* 1 × eVic USB cable
* 1 × eVic wall adaptor
* 1 × eVic manual
* 1 × MVR manual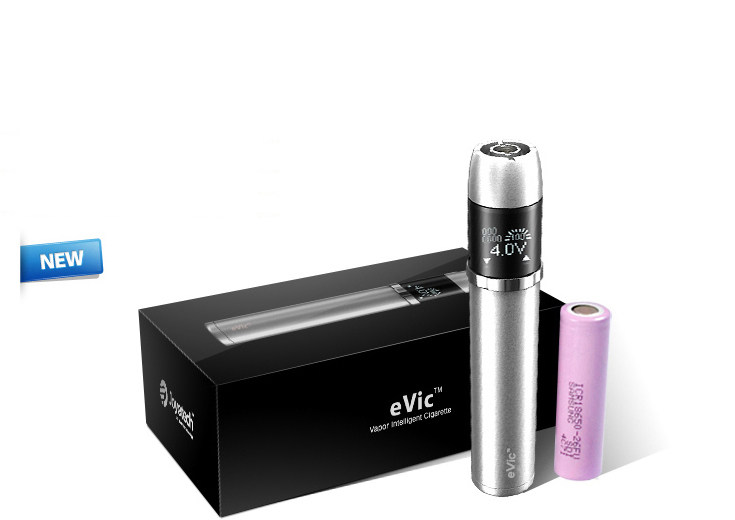 Vapor Intelligent Cigarette
The eVic revolutionarily adopts a visual operating system which is able to record and manage your vapor history. Mea- nwhile, it can realize human-machine int- eraction through connecting with compu- ter, and show you smoking information clearly. In addition, extra large capacity gives you the perfect vapor all day long.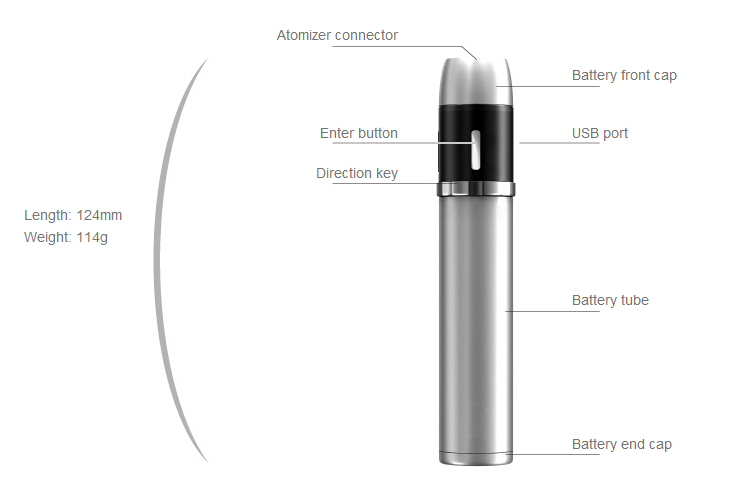 eVic visual operating system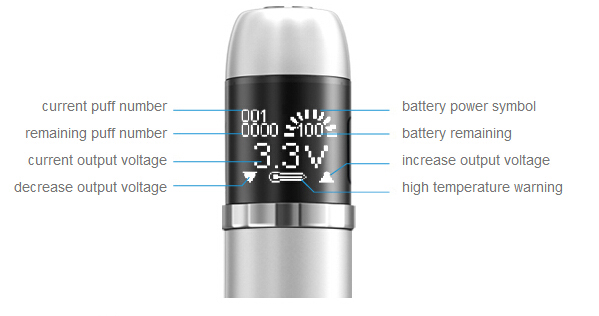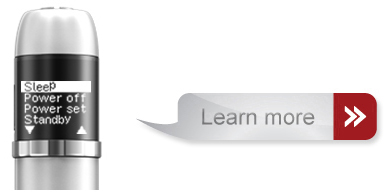 Properties:
* Visual operating system
* Device temperature monitoring
* Output short circuit protection
* Output open circuit protection
* Overtime working protection
* Low voltage protection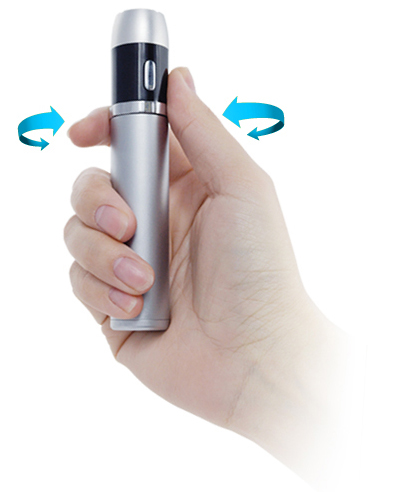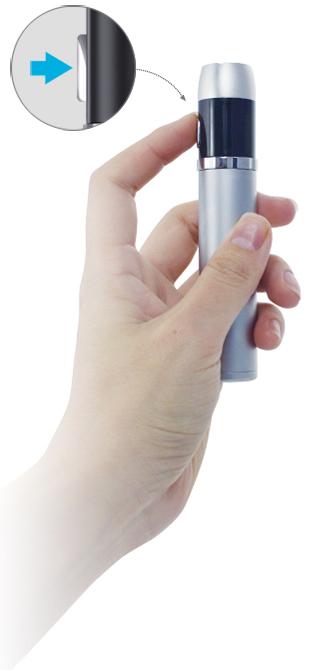 eVic
is a milestone, a turning point, and a new development direction of vapor intelligent electronic cigarette battery.
a.
You can operate eVic through rotating direction key and
clicking enter button.
b.
You can adjust the output power from 2.0W to 11W and
the output voltage from 3.0V to 5.0V by yourself.
c.
eVic can be easily charged with the dedicated USB cable,
and the USB cable can connect with wall adaptor or
computer.
d.
Choose an atomizer which you like to assemble with eVic,
then it is ready for use.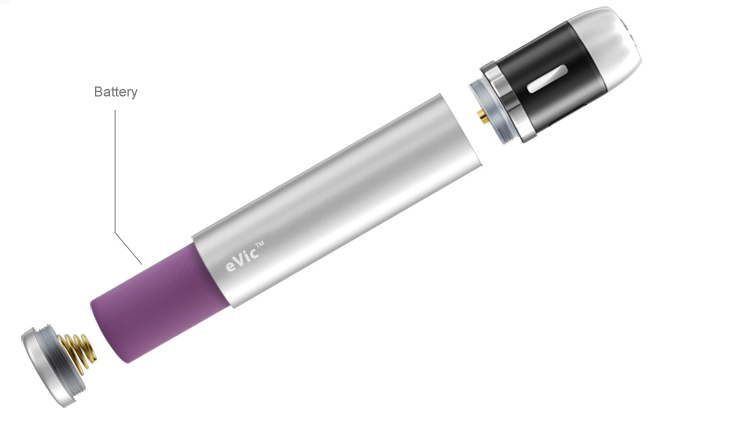 Features of eVic Battery:
* Model: SAMSUNG 18650
* 2600mAh high-safety, extra large capacity,
and high-stability dedicated lithium battery
* Never stack two batteries or use batteries
that are not allowed for use in the eVic.
Universal accessories:
The eVic is a versatile intelligent battery for electronic cigarette. It can be assembled directly with Joyetech 510 and eGo series atomizers, and also can be assembled with more atomizers by an adaptor.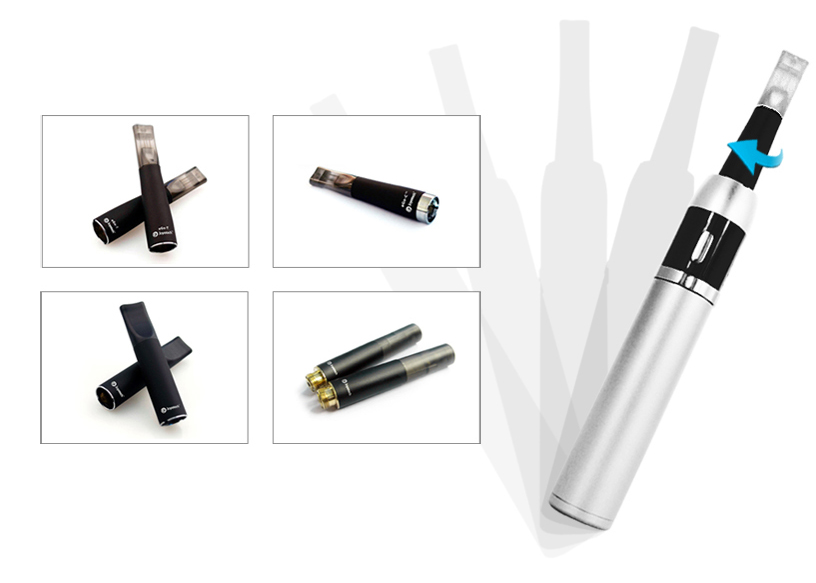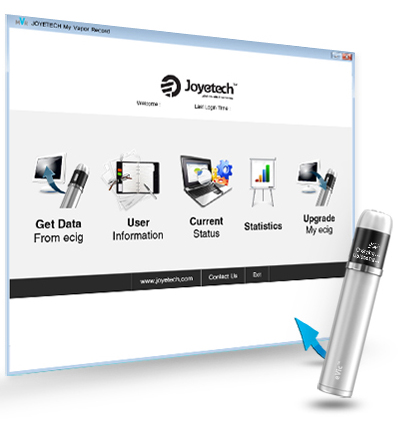 My Vapor Record (MVR) is a special PC software of eVic. It has professional data statistics function which can record your vapor information more effectively.
Amazing! The design of PC software realizes human-machine interaction through connecting with computer. After your convenient and quick setup, you just only click mouse gently, your vapor record will be displayed on the computer.
How to download and use MVR

Power on/off
Activate battery energy output
Deactivate battery energy output

Date setting
Set time and date of the device manually
or update through MVR automatically

Power on/off
Activate battery energy output
Deactivate battery energy output

Date setting
Set time and date of the device manually
or update through MVR automatically

Power on/off
Activate battery energy output
Deactivate battery energy output

Date setting
Set time and date of the device manually
or update through MVR automatically

Power on/off
Activate battery energy output
Deactivate battery energy output

Date setting
Set time and date of the device manually
or update through MVR automatically

Power on/off
Activate battery energy output
Deactivate battery energy output

Date setting
Set time and date of the device manually
or update through MVR automatically

Power on/off
Activate battery energy output
Deactivate battery energy output

Date setting
Set time and date of the device manually
or update through MVR automatically
x