ARE YOU OF LEGAL
SMOKING AGE?
THE PRODUCTS ON THIS WEBSITE ARE INTENDED FOR ADULTS ONLY.
By entering this website, you certify that you are of legal smoking age in the state in which you reside
WARNING: This product contains nicotine.Nicotine is an addictive chemical. Our products are restricted to adults 21+ only.
All the products shown on Joyetech global official website are not allowed to promote or sell in the U.S. Market.
The ORNATE atomizer, detailed with the stylings of Neo-Georgian architecture, brings forth such bold characteristics as the MGS triple coil head with three distinct airflow channels. Each air channel correlates with the featured triple airflow inlets for an ultra low resistance draw. The ORNATE sits prominently on any mod embellished by an ultra comfortable wide bore drip tip. Its 25mm diameter cleverly disguises a full 6ml. e-liquid capacity. In short, this atomizer looks smart but means business.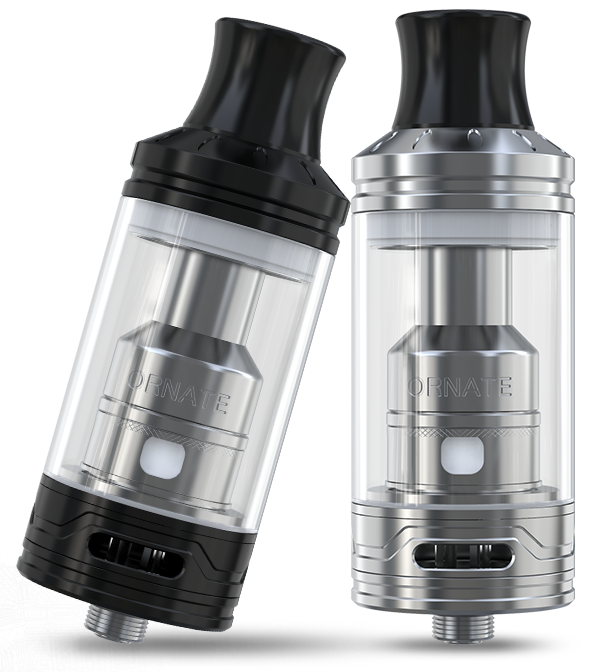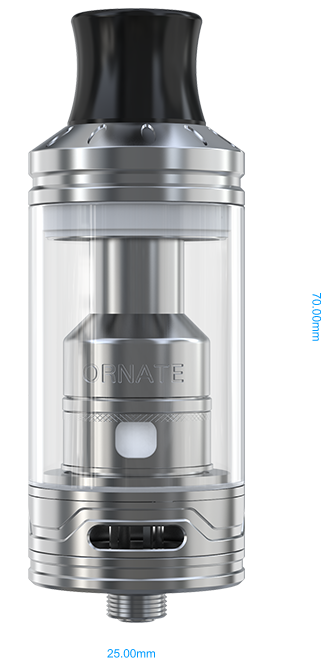 Parameter:
Size: 25.0mm*70.0mm
Capacity: 6.0ml
Color: Silver, Black
Applicable Heads: MGS Clapton 0.15ohm, MGS Triple 0.15ohm
Standard Configuration:
1 * ORNATE atomizer
1 * MGS SS316L 0.15ohm head
1 * MGS Triple 0.15ohm head
1 * Spare glass tube
1 * Mouthpiece adapter
1 * Seal ring bag
1 * Manual & warranty card
1 * Warning card
MGS series heads for ORNATE
The new MGS series heads, including MGS SS316L 0.15ohm and MGS Triple 0.15ohm head with the enormous shape are
especially and perfectly designed for the ORNATE atomizer.
| | |
| --- | --- |
| Featuring three coils into one head, the MGS Triple 0.15ohm head (made of SS316L) is meant to go through considerable e-liquid producing an ideal heating effect with large clouds and great flavor. E-liquid inlet can be regulated by simply rotate the valve. Our exclusive recommended output range for the best taste is 100-160W. | Stainless steel coil can be used under both power mode and as well as TCR mode. It produces considerable vapor with minimal loss of flavor. Our exclusive recommended output range for the best taste is 80-130W. |
| | |
Large e-liquid inlet
With three prominent holes along the sides, the MGS coil heads offer plenty of e-liquid inlet which will get the coil totally soaked with ease.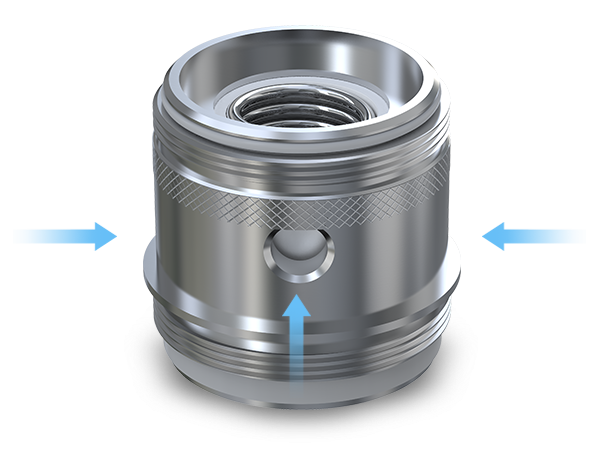 Premium finish with fine patterns
Being clean and smooth, the ORNATE atomizer is made of high quality stainless steel with premium finish.
The decorative patterns engraved on top makes it a total exquisite tank.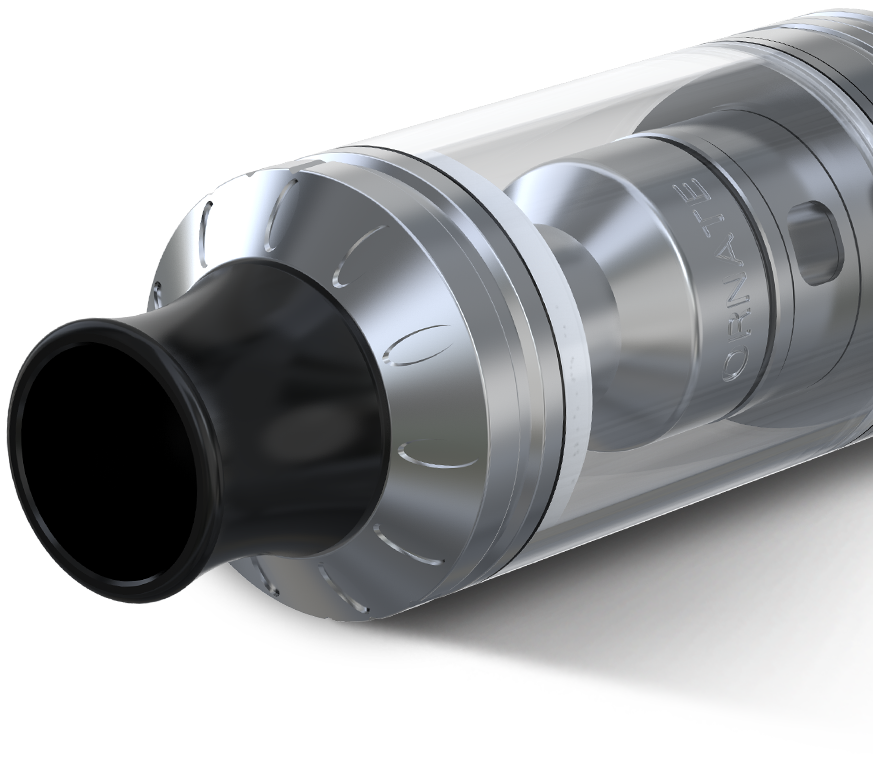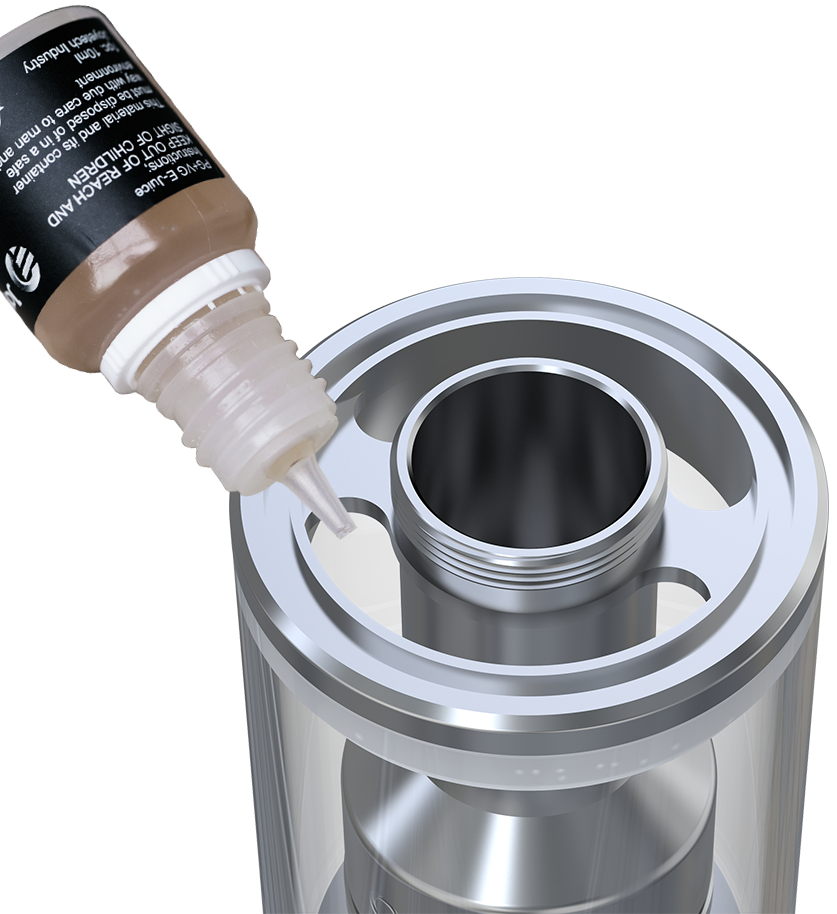 Filling e-liquid with ease
Simply uninstall the top cap from the vent pipe component,
then inject the e-juice into the two side holes (not the vent pipe) directly.
Considerable airflow inlet
To achieve the huge cloud and great flavor with the MGS heads, large air slots with multiple holes are necessary.
Just rotate the valve to adjust the air-let.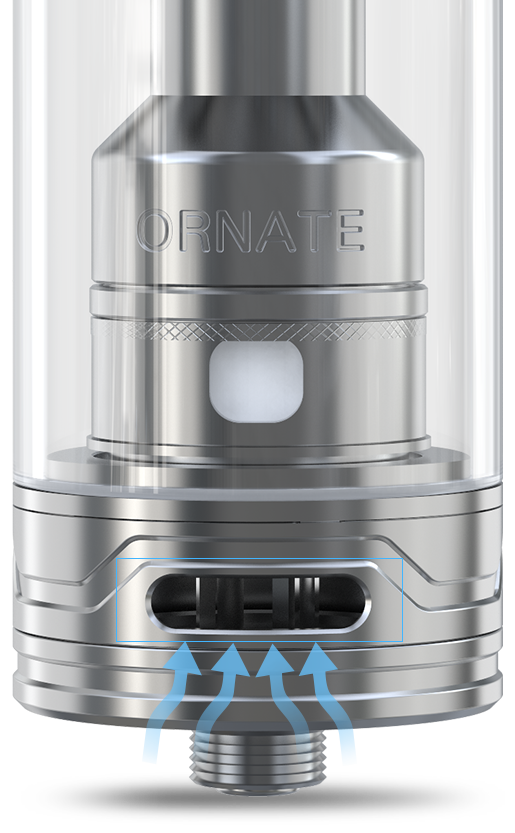 The mouthpiece adapter for ORNATE atomizer enables to put a normal 510 mouthpiece on it.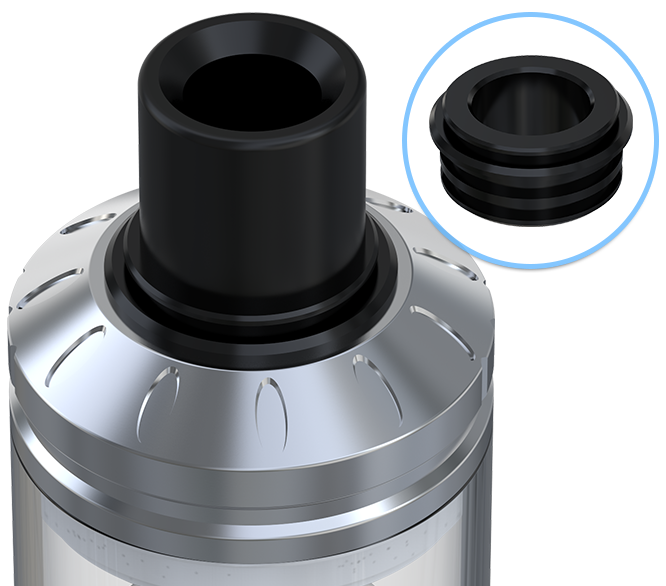 Detachable structure, easy to clean
The ORNATE atomizer can be easily detached and is able to wash separately.

Atomizer head replacement
Unscrew the atomizer tube, the head is located in the base, just unscrew it to replace and clean.
(NOTE: Please do not wash the atomizer head with water. Simply scrub it with cotton or clean dry cloth.)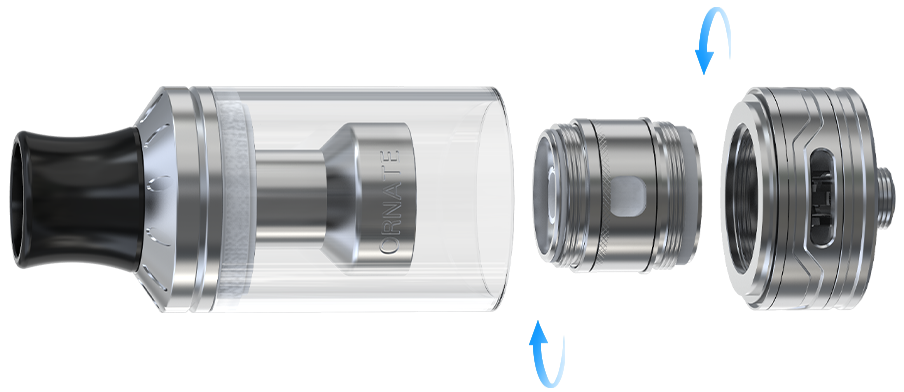 x