ARE YOU OF LEGAL SMOKING AGE?
THE PRODUCTS ON THIS WEBSITE ARE INTENDED FOR ADULTS ONLY.
By entering this website, you certify that you are of legal smoking age in the state in which you reside
zł111.59(650mAh)
114.90 (1000mAh)
PLN (In.VAT)
¥3355 (900mAh)
3457 (1000mAh)
JPY (Ex.VAT)
€ 28.49(900mAh)
29.50 (1000mAh)
EUR (In.VAT)
$32.99 (900mAh)
33.99 (1000mAh)
USD (Ex.VAT)

Properties:
● Length: 111mm(900mAh)
121mm(1000mAh)
● Weight: 38.5g(900mAh)
42.0g(1000mAh)
● 900mAh/1000mAh high-safety,
high-capacity, high-magnification
and high-stability delicated lithium battery
Color:
black, silver, white, pink
Universal accessories:
● 510, 510-T, eGo, eGo-T, eGo-C atomizers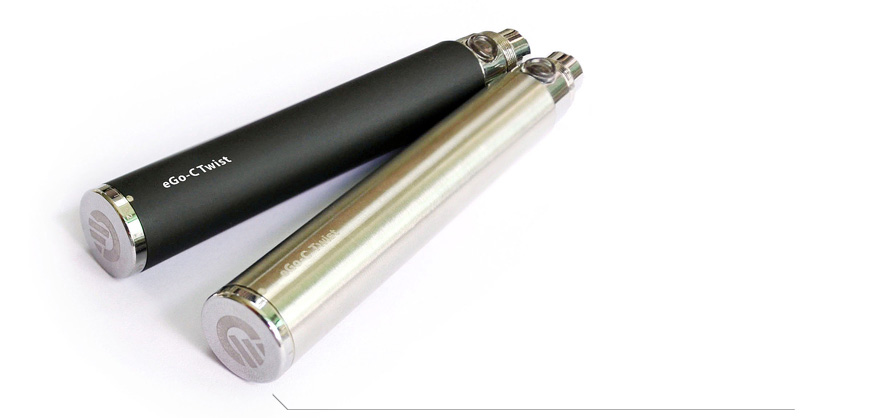 Accurate adjustment of output voltage, intensified short circuit protection, discharge and overcharge protection, switch protection,atomizer protection, low voltage protection..
The eGo-C Twist battery
is another advanced vision based on eGo-C original battery. We modified the circuit to enable the adjustment of output voltage from 3.2V to 4.8V. With a smart Buck-Boost converter inside, you can spin the knob at the bottom to adjust the output voltage depend on your need.
Large battery:
Much more powerful than conventional batt- eries. Let you enjoy your e-cigarette for a longer time.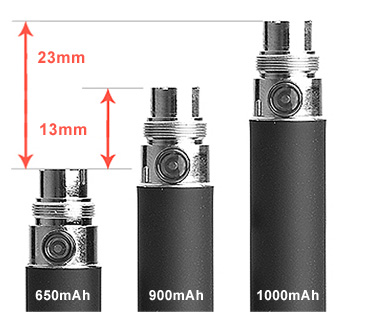 Accurate adjustment of output voltage
There are altogether 8 grids on the knob at the bottom, and each represents 0.2V. Spin the knob in a clockwise direction to increase output voltage and spin the knob in an anticlockwise direction to decrease output voltage.Higher output voltage gives more vapour.You can adjust the output voltage so easily and enjoy the whole vapour time.

Following are test result by certain conditions:
1. 2.2Ω Atomizer heating element.
2. 4.8V battery output
3. Each puff last 4 seconds.
4. 5 seconds between each puff.
5. Testing without stop until battery finish.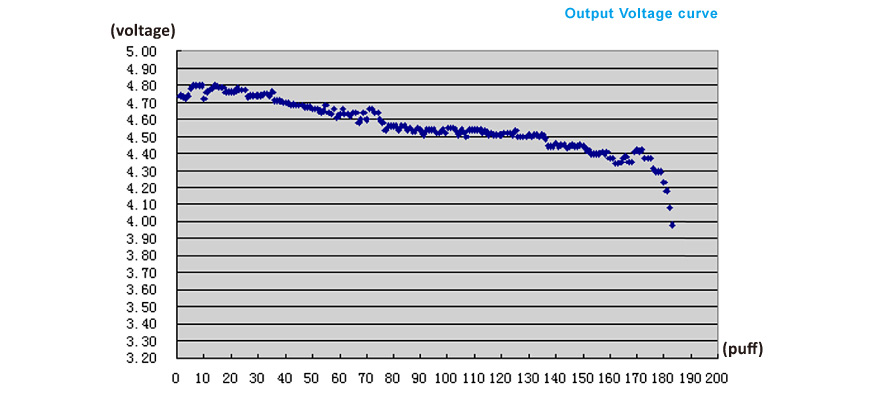 This battery also has the previous lock/unlock function.The protection switch makes it safer and easier to use and this can prevent accidental battery discharge when not in use.

Screw battery into the hole on the atomizer and gently push the tank cartridge into the atomizer,then it's ready to use.

Battery can be easily charged with the assorted USB chargers and there are various chargers for your choices.