ARE YOU OF LEGAL SMOKING AGE?
THE PRODUCTS ON THIS WEBSITE ARE INTENDED FOR ADULTS ONLY.
By entering this website, you certify that you are of legal smoking age in the state in which you reside

The Joye510CC atomizer features a sleek, slim design and your choice of seven beautiful colors: matte black, matte white, pearl pink, purple, sky blue, red and silver.

Seven color available bring you to a colorful e-cigarette world. You can choose a favourite one, and it must be a unprecedented experience.
Changeable atomizer head
The Joye510CC atomizer adopts the classic Joyetech changeable C1 atomizer head, so does the mouthpiece.
Diameter: 9.2mm
Length: 62.8mm
Capacity: 0.75ml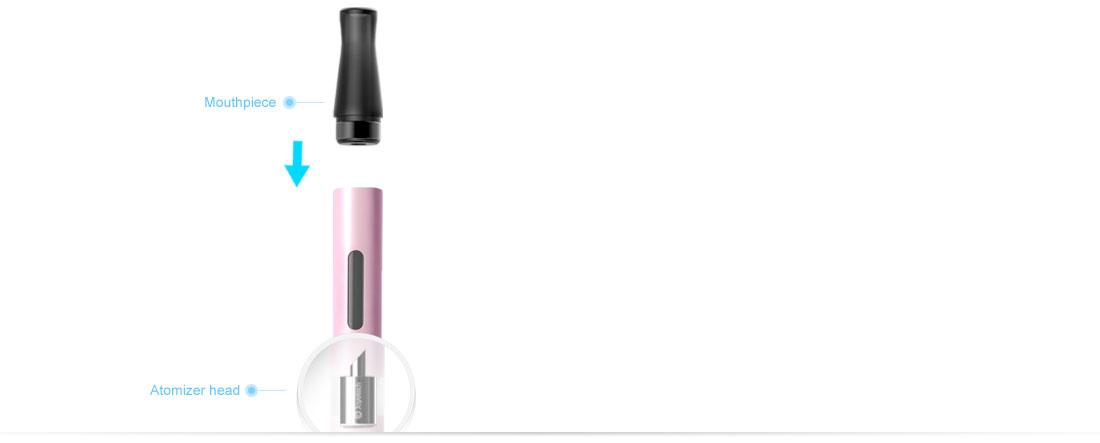 Visual window
The Joye510CC adopts the visual window design which can help you add the e-juice timely to avoid leaking and burnt taste problem.

How to Assemble
1. Screw the atomizer head onto the battery.
2. Screw the base onto the atomizer head.
3. Screw on the atomizer tube and the mouthpiece.


How to fill Liquid
Unscrew the atomizer tube from the base. Simply fill e-Liquid into the hole on the bottom of the tube and then screw on the battery. Please refer to the following pictures: