ARE YOU OF LEGAL SMOKING AGE?
THE PRODUCTS ON THIS WEBSITE ARE INTENDED FOR ADULTS ONLY.
By entering this website, you certify that you are of legal smoking age in the state in which you reside
2018 Spring Festival Vacation Notice
Dear Joyetech Valued Customers,
The Chinese Spring Festival is around the corner. In order to celebrate it, Joyetech will take 12 days off (Feb. 11 - 22, 2018).
If you have any question or request, please do not hesitate to contact us via Facebook or email (service@joyetech.com). We'll get to you as soon as we're back to work.
Sorry for any inconvenience caused to you.
We would also like to take this opportunity to wish you and your families all the best for a happy new year.
Joyetech Group
Feb. 10, 2018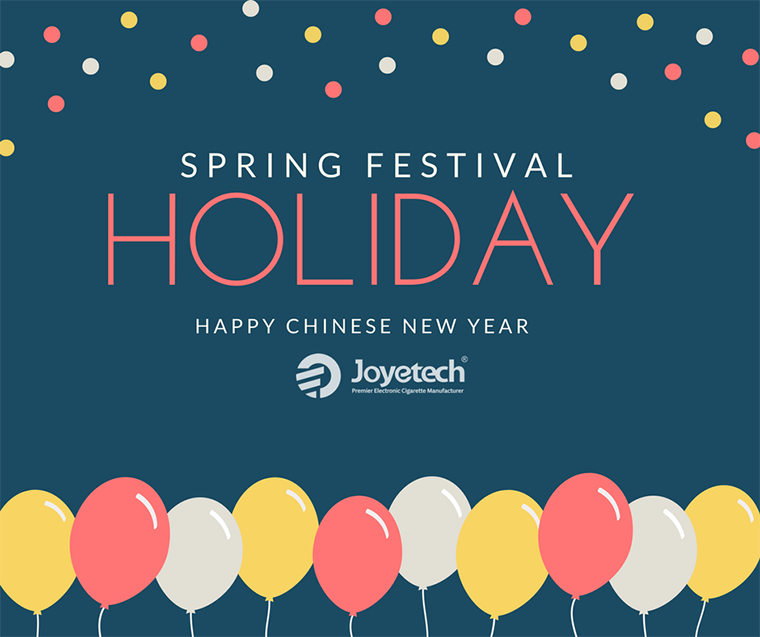 2018-02-10
2018-01-30
2017-12-19
2017-12-19
2017-11-23
2017-10-31
2017-10-10
2017-09-27
2017-09-08
2017-08-17
2017-08-03
2017-07-26
2017-07-18
2017-07-06
2017-06-06
2017-05-04
2017-04-17
2017-04-07
2017-04-07
2017-03-30
2017-03-23
2017-03-20
2017-02-16
2017-01-22
2017-01-16
2016-12-09
2016-11-22
2016-11-08
2016-10-20
2016-10-10