WARNING: This product contains nicotine. Nicotine is an addictive chemical. Our products are restricted to adults 21+ only.
ProC-BF Series Head
(0.5ohm/0.6ohm/1.0ohm/1.5ohm)

Having the new ProC-BF series head, it provides a more restricted draw for mouth to lung and direct lung vapers and a pretty soft flavorful clouds. It goes not only with Temp SS316 mode, VW mode, but also TCR mode where customer can set their own vaping preference.
Parameter:
Hight: 16.5mm
Diameter: 10.5mm
Coil: SS316 (0.5/1.0ohm)/Kanthal (0.6ohm)/Clapton (1.5ohm)
Compatible atomizers: CUBIS/CUBIS 2/CUBIS Pro/CUBIS Pro Mini/
eGo AIO series/eVic AIO/Elitar Pipe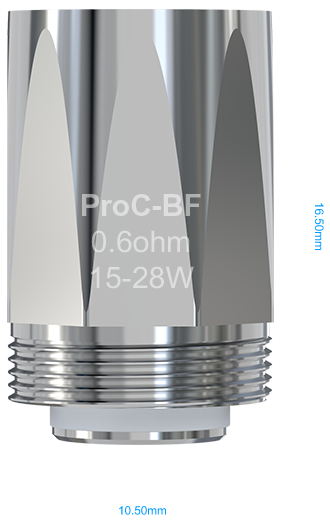 This site uses cookies. By continuing to browse the site you are agreeing to our use of cookies. Read our private policy>